No race or circuit of the Formula 1 Calendar can truly match the excellence, the glamour and the challenge of the Monaco Grand Prix. From Casino Square to the World's most famous Hairpin, through the tunnel and past the luxurious yachts, Monte Carlo is a circuit of legendary corners full of history.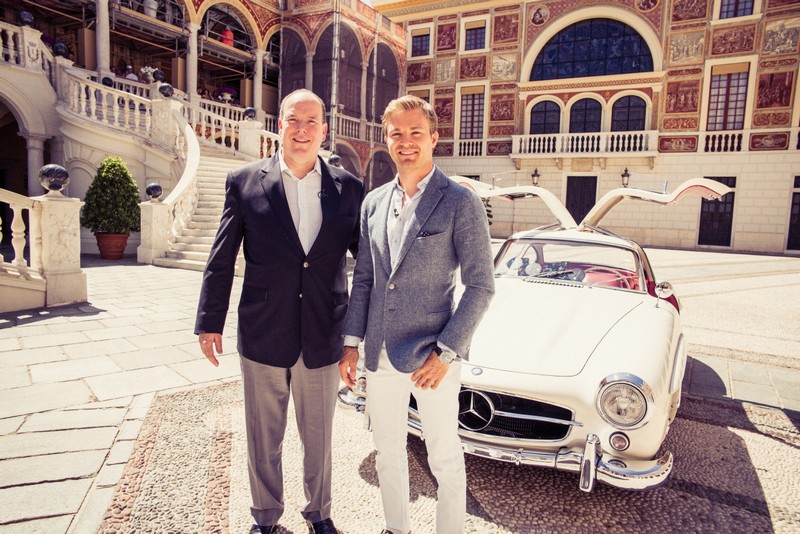 Mercedes AMG Petronas Formula One Team Driver and three-time winner of the Monaco Grand Prix Nico Rosberg, had the honour to drive Prince Albert through the streets of Monaco.
Driving in Nico's dream car, the iconic Mercedes Benz 300SL gullwing from 1955, the pair talked about the tradition of the Monaco Grand Prix, their passion for cars and how their lives have changed with fatherhood. Nico Rosberg has won the last three editions of the Monaco Grand Prix, racing for Mercedes.
The Monaco Grand Prix is a Formula One motor race held each year on the Circuit de Monaco. Run since 1929, it is widely considered to be one of the most important and prestigious automobile races in the world and, with the Indianapolis 500 and the 24 Hours of Le Mans, forms the Triple Crown of Motorsport.
"It's one of my home races next in Monaco – the ultimate driver's track. It's where I grew up and where I still live today, so that always makes it a special weekend," said Rosberg.
"I have memories from every corner going right back to my school days and I always have great support there from my family, my friends and the fans, which gives you that extra boost through the weekend. It's been amazing to win there for the past three years – but I know it will be tough to repeat that with Lewis, the Ferraris and the Red Bulls all so strong now. I'm feeling confident, so bring on the battle!" added Nico.
The Monaco Grand Prix is organized each year by the Automobile Club de Monaco which also runs the Monte Carlo Rally and the Junior Monaco Kart Cup.