Meissen head Kurtzke voted first president of the MEISTERKREIS
France has Comité Colbert, the British have Walpole, Italians have Fondazione Altagamma and the Spanish – Circulo Fortuny.  From 21 of October Germany has its own special interest luxury group called Meisterkreis.
More than 40 German and international luxury brands formally established the 'MEISTERKREIS – Deutsches Forum für Luxus' (in English: German forum for luxury) in Berlin last week.
Members voted the chairman of the board of porcelain manufacturer Meissen, Christian Kurtzke, as its president. Further board members include Thomas Schnädter, managing director of Montblanc Deutschland, and the management consultant Clemens Pflanz, forming the executive committee. Among the inaugural members of the new forum are A. Lange & Söhne, Comtesse, Gaggenau, KaDeWe, Leica, Porsche Design, leading hotels like the Adlon or Brenners Park Hotel, German vintners like Robert Weil, and international luxury brands such as Chanel, Dior and Estée Lauder.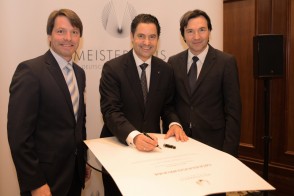 The role of the MEISTERKREIS is not only to promote networking within the sector, but also campaign for a new pleasure and luxury culture in Germany. The initiative is encouraged by the results of a recently published survey by the opinion research institute TNS Emnid, according to which 76 per cent of all German people describe themselves as 'hedonists'; among 14–29 year olds the figure rises to 88 per cent. The dreams of luxury among Germans centre on travel (36%), cars and living (both 20%), according to the sampling on behalf of MEISTERKREIS. For nine per cent of Germans, luxury is very important to them personally.
The recent study by Roland Berger Strategy Consultants shows, that sales of luxury goods in Germany in 2010 add up to eleven billion euros. The potential of the German luxury market is said to be far higher when measured against the size of the population and its purchasing power. They say annual growth of nine per cent is realistic, which translates into an increase in sales to around 24 billion euros by 2020.
In contrast to other European interest groups, by assimilating international companies from the luxury segment the MEISTERKREIS is blazing new trails. 'The MEISTERKREIS sees itself as an international ambassador of luxury in Germany and beyond. In a globalised world, German luxury culture will no longer be originally influenced by national, but also international luxury brands. That is why it is important for us to involve all relevant brands and companies to shape the German luxury market together,' according to Kurtzke.
[adsenseyu1]