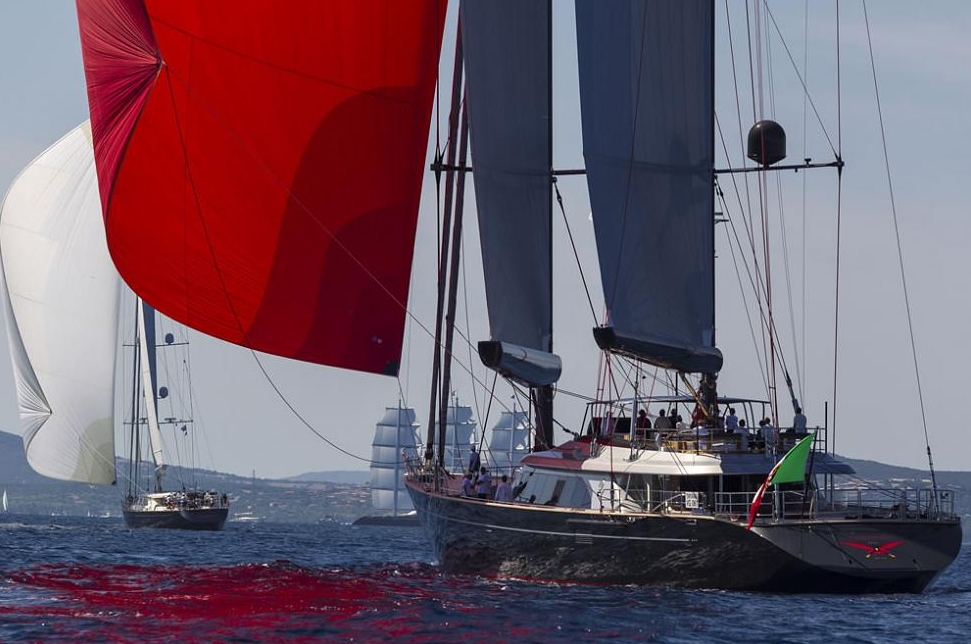 An imposing fleet of Perini Navi yachts took to the waters off Porto Cervo for the first day of racing of the Perini Navi Cup 2013. The fifth edition of the biennial event, organized by the Yacht Club Costa Smeralda, is open to yachts designed and built by the prestigious Italian shipyard and will run through Saturday 31st August. The first race of the event was dominated on the water by the performance cruising sloop P2 which crossed the finish line with a comfortable lead while it was the 50-metre Silencio that claimed victory in corrected time.
Among the 15 sailing yachts that have confirmed their presence is the first-time participant P2, a 38-metre sloop and the first example of the shipyard's Racing Line, the majestic 88-metre clipper The Maltese Falcon, winner of the previous edition of the Cup, will also be present together with Seahawk, Perini Navi's most recent creation and the first of a new series of 60-metre hulls featuring innovative design and new technology which guarantees faster handling and even better performance under sail.
Sailing greats taking part in the competition include veteran America's Cup sailor Dawn Riley aboard the 50-metre Silencio while Volvo Ocean Race sailor Justin Clougher and Mike Toppa aboard the 56-metre ketch Zenji.
America's Cup sailor Dawn Riley was pleased with the teamwork aboard Silencio, "We won today, well done to all! I am the tactician on board and the entire crew did really well today, they were perfect. This is my third Perini Navi Cup and you have to know how to sail these boats, everything is so big. The owner said he wanted to get just one podium finish so I guess we did that! I just hope we can keep it up now."
Moncler, main sponsor of the regatta, has specially created the official clothing for the entire event from the Moncler Grenoble collection using the red, white and blue of the French tricolour, symbol of the brand.