Since 1966, the Force 10 bracelet's unexpected marriage of a steel cable and a gold buckle has epitomised the style of Fred: singular, precious, luminous, powerful and timeless.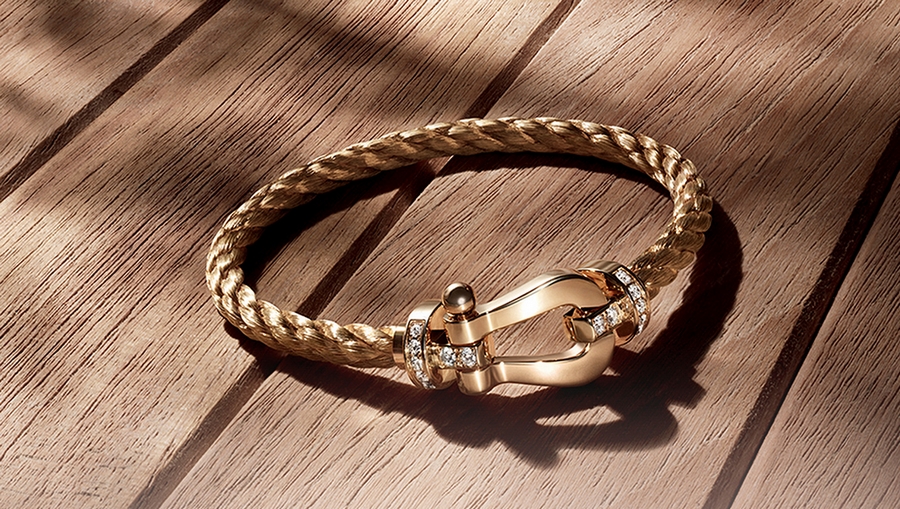 The FRED jewelry house continues to epitomize an unconditional love of gemstones, pearls and golden light, creating collections that burst with radiant elegance.
Fred Samuel, the founder of Fred, transmitted his passion for the sea and sailing to his sons. In 1966 the elder son came upon the idea of braiding two marine cables, attaching them with two rivets to make a bracelet for his wife. An icon was born. The androgynous jewel has since been revisited and personalized in exciting collections that express the desires of each wearer.
Fred, Force 10 bracelet in yellow gold and paved white diamonds (6870€) features 64 white diamonds brillants cut (0,90 carat / GVS) and a FORCE 10 cable in steel with yellow gold plated end pieces.
The Force 10 collection stands for creative freedom and energy; the bracelets can be personalized with interchangeable cables, the buckle motifs are refined as rings, while pendants hang upon the slenderest most elegant chains.