"An ethical sailing experience with zero impact on the environment."
Dragonship 25 Luxury Trimaran with Innovative Charging Autosail Technology for Near Silent Eco-Friendly Running.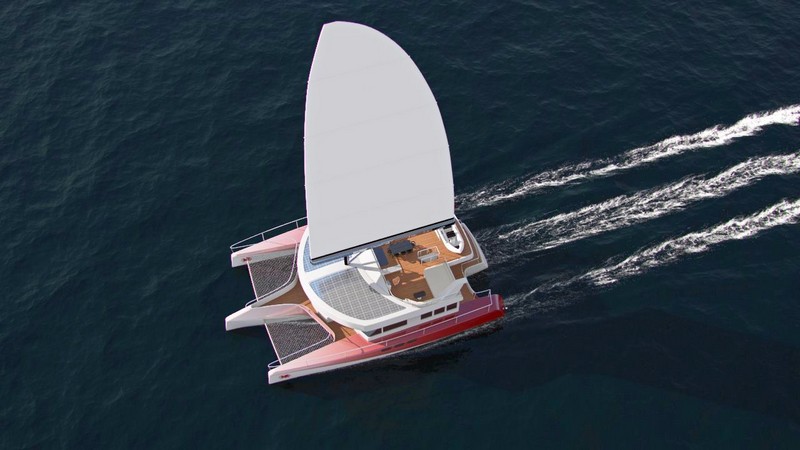 At PI Super Yachts, luxury and sophistication are more than just style considerations. The new innovative Dragonship 25 comes a year and half since PI Super Yachts unveiled luxury Super Trimaran 80m Dragonship. The new Dragonship 25 is a luxury Trimaran with innovative Hydrogenisis 'Blue Box' – technology, electric propulsion and the unique Autosail with built in solar PV technology.
At 25m it comes in a more compact format, but with the same innovative power and ecological technology that embodies the Dragonship range.
Hydrogenisis 'Blue Box' technology takes acified sea water and without electrolysis or high electrical currents extracts hydrogen ions (H1) in sufficient volume to provide the fuel to run fuel cells which in turn create electricity to propel and run the trimaran.
"At PI Super Yachts, we pride ourselves in providing creative solutions to the design, usability and environmental issues that our clients face. The "Baby- Dragon" as CEO and founder Will O'Hara lovingly calls the Dragonship 25 is "carbon free", with electric propulsion and solar PV panels on the coach roof and integrated into the Autosail wingsail. This of course means zero carbon fuels, zero emissions and nearly silent when running on full power, offering owners a truly ethical sailing experience with zero impact on the environment."
The Dragonship 25 is designed to comfortably accommodate ten guests and four crew members.
The master stateroom is situated in the main hull with fixed port lights in the transom. Four ensuite guest staterooms are situated on the main deck, while the twin crew cabins are situated in the amas.
An extended deck accommodates a 5.2m tender and hydraulic crane. Each ama houses a lazarette with fold-down swim platform aft for water sports fun or simply a place to store water toys.