Superyachts Battle for Supremacy: World Superyacht Awards 2013
Now into its eighth year, the World Superyacht Awards honour the finest new superyacht builds delivered to their owners in the past twelve months. Each May, the superyacht industry's elite gather for the glamorous awards dubbed the Oscars of the superyacht world.
Having received an overwhelming number of nominations, Boat International Media's expert teams of editors have refined the nominees to an outstanding list of World Superyacht Awards finalists who now stand in contention to receive a coveted Neptune trophy. Fourteen Neptune Awards, each one individually custom made, will be presented in 2013.
The winners of these prizes will be declared on 4th May 2013 during the gala evening at the historic Çiragan Palace Kempinski, in Istanbul.
Expert judges will soon meet to select 14 winners who have been classified on the basis of the type and size of each superyacht. Following consultation with naval architects and yacht builders, different yacht award categories have been established allowing yachts to be judged against other vessels of similar specifications.
With two industry specialists and twenty luxury yacht owners in their ranks, the jury will soon be visiting those few remaining vessels that, as yet, have not been seen. In addition to the individual reports presented to the judges, the owners also provide comprehensive dossiers, which contain photographs, diagrams and specifications so that the jury understand the finer points of these splendid vessels. Only then will the jury members make their final and extremely difficult decision that will remain a secret until the grand presentation ceremony in May 2013. While there can only be one winner for each award, all of the contestants know that being selected as a finalist is a huge achievement in itself, and one they can be rightfully proud of.
"Some of these magnificent vessels already are or will become luxury yachts for charter in the future, giving the public the chance to experience an award winning superyacht at sea. For those with a passion for magnificent luxury yachts, the World Superyacht Awards is a glamorous ceremony not to miss," commented Cindy Brown, luxury yacht broker and owner of Ultra Marine Yacht Charters.
Sixteen coveted Neptunes – including two Judges' Special Awards and five Judges' Commendation prizes, custom made for the occasion by Baccarat, were awarded in 2012.
Notable awards in 2012 included: Motor Yacht of the Year was awarded to 77.7m Tango, built by Feadship and styled by Eidsgaard Design. Sailing Yacht of the Year went to 67.2m Vertigo, built by Alloy Yachts and styled by Philippe Briand, with an interior by Christian Liaigre Yacht Design.
The Voyager's Award was presented to the owners of the 46m motor yacht Golden Compass inspirational 30,000nm world cruise. The Legacy Award was presented to Neville Crichton.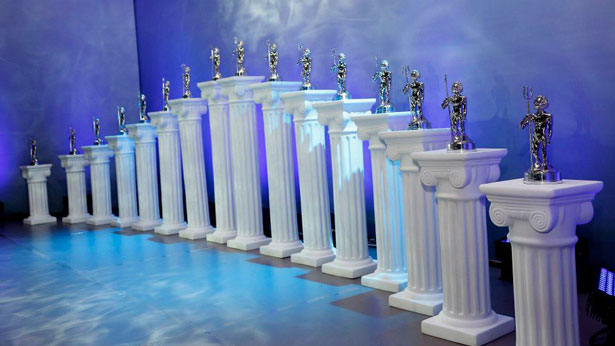 Displacement Motor Yacht of 1,300GT and above:
Excellence V 60,00m (Abeking & Rasmussen)
Mogambo 73.51m (Nobiskrug)
Nirvana 88.50m (Oceanco)
Rocky 85.00m (Lürssen)
Stella Maris 72.10m (Viareggio Superyachts VSY)
Vicky 72.60m (Proteksan-Turquoise Yachts)
Displacement Motor Yacht of 500GT to 1,299GT:
Arianna 50.00m (Delta Marine Industries)
Garçon 67.15m (Damen Shipyards)
Rahil 53.80m (Mariotti Yachts)
Smeralda 77.00m (Hanseatic Marine Engineering)
Step One 55.00m (Amels)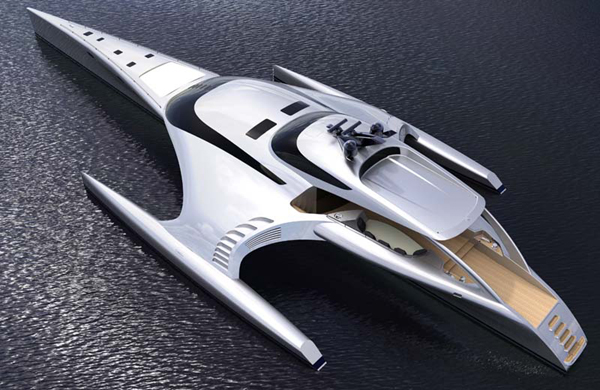 Displacement Motor yacht of below 500GT:
2Ladies 46.35m (Rossinavi)
Achilles 46.00m (Sanlorenzo)
Adastra – 42.50m (McConaghy Boats)
Aslec 4 45.00m (Rossinavi)
Belle Anna 49.95m (ISA Group)
Lady Petra 47.00m (Heesen Yachts)
Sailing Yacht in 40m+ size range:
60 Years 41.80m (Royal Holding AS)
Better Place 50.50m (WallyEurope)
Kamaxitha 51.30m (Royal Huisman)
Ohana 49.70m (Fitzroy Yachts)
See the full list of 2013 finalists here: