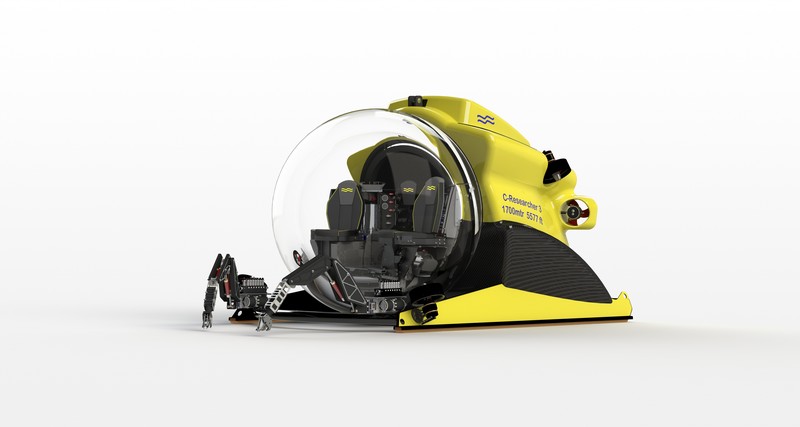 U-Boat Worx has teamed up with leading scientists to design a compact and cost-effective submersible that enables scientists, ocean enthusiasts to explore the world's oceans with an unrivalled combination of safety, high performance, ultra-wide field of vision and outstanding comfort. UBW already builds a range of private submersibles that provided the proven technology for this C-Researcher 3, world's first transparent 3-person submersible capable of diving to 1,700 meters (5,577 feet).
To resolve key ecological issues, the scientific community is in need for tools that enable a detailed study of our oceans. The presence of human-beings in the subsea environment is essential in that it allows for much more effective observation and research compared to unmanned underwater vehicles.
It is the first time that a spherical acrylic pressure hull is applied to reach these depths. Bert Houtman, Founder of UBW comments: "Those lucky few diving our C-Researcher will be rewarded with stunning panoramic views of a rich and diverse underwater scenery that has been hidden from mankind since the existence of our oceans".
Advances in design software and materials have allowed UBW to achieve compact dimensions and a limited weight. Unlike
traditional research submarines that are restricted to operate from large dedicated mother vessels, the C-Researcher 3 can be operated from a wide range of vessels including superyachts. The C-Researcher 3 can also be transported in a shipping container to minimize mobilization time and cost.
Safety of the submersible and its occupants is guaranteed by numerous safety features and redundant systems. Additionally, the independent classification authority DNV-GL oversees the design, construction and trials of each individual submersible.
An extensive list of optional tools can be mounted so that scientists can collect bottom samples and marine organisms, measure water conditions, create 2D/3D underwater maps and analyze the seabed.