A New skincaviar scientific discovery.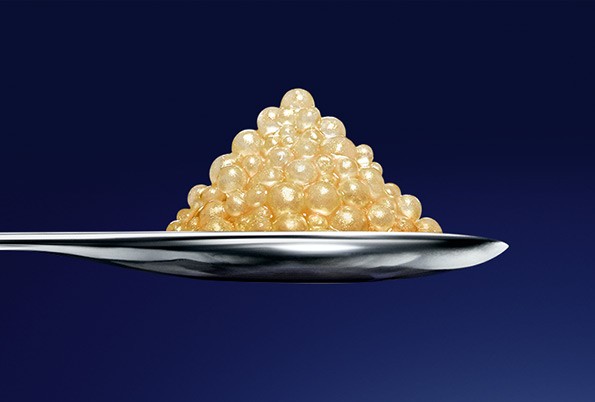 For the first time, the most delicate components of caviar have been captured in this pure, powerful, highly concentrated infusion. The result is a new form of caviar.
Luxury skincare specialist La Prairie Switzerland is introducing a new skin caviar scientific discovery. The 2016 skin caviar indulgence is a pre-serum called Skin Caviar Essence-In-Lotion. Considered by La Prairie cosmetics as "the missing link in your skincare ritual," the highly Concentrated Infusion prepares the skin to reap the benefits of serums and treatments to follow. This light yet potent formula contains Caviar Water, an extremely concentrated melange with active caviar-rich components.
The caviar water is derived from a newly perfected steam distillation process. An active fluide that is pure and crystal-clear. A formula that is gentle yet highly effective, extravagant yet essential.

After cleansing and toning, the new formula is preparing the skin and optimising absorption of the products with the first step of the daily beauty ritual.
"We recommend to apply Skin Caviar Essence-In-Lotion before Liquid Lift. It hydrates, smooths and firms your skin but also optimizes the absorption of the rest of your skin caviar regimen," says La Prairie team.
Among the benefits of the La Prairie Skin Caviar Essence-In-Lotion are the look and feeling of an instant lift. It helps increase firmness and elasticity over timerefines skin and minimises appearance of pores. The essence-in-lotion hydrates and conditions the skin to accept the infusion of caviar and other nutritious ingredients.
La Prairie brand is owned by Beiersdorf AG, the German personal-care company based in Hamburg, manufacturing personal-care products and pressure-sensitive adhesives. Its brands include Elastoplast, Eucerin (makers of Aquaphor), Labello, La Prairie, Nivea and tesa.