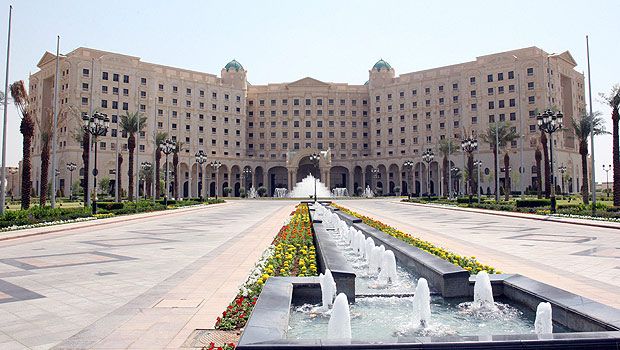 Ritz-Carlton Hotel Company opened its first hotel in Riyadh, Saudi Arabia. This is the 77th hotel in the world and eighth in the Gulf region.
The palatial hotel, with 493 rooms and suites, is prominently situated next to the Diplomatic Quarter and
adjacent to the King Abdul Aziz Convention Centre, one of the largest in the region and host to international summits and conferences.
The Ritz-Carlton Hotel Company currently operates 77 hotels in the Americas, Europe, Asia, the Middle East, Africa, and the Caribbean. It claims to be the only service company to have twice earned the Malcolm Baldrige National Quality Award, which recognizes outstanding customer service.
Designed by Al-Rasheed Engineering Company and constructed by Oger International, The Ritz-Carlton, Riyadh regally faces spectacular fountains fronting a one kilometer driveway. Originally envisioned as a royal guest palace for visiting dignitaries and heads of state, the hotel's stately architecture is modeled on traditional palaces and elegant Arabian residences, with ochre facades blending gracefully with the verdant landscape of the gardens. Native palms, 600-year old olive trees from Lebanon, and water fountains abound on the property, providing an oasis of serenity amidst the city centre.
[adsenseyu1]
In only the first quarter of 2011, The Ritz-Carlton has already opened three iconic properties, including The Ritz-Carlton, Hong Kong – the world's highest hotel, The Ritz-Carlton, Toronto (Canada) and The Ritz-Carlton, Dubai International Financial Centre. By the end of the year will debut hotels including The Ritz-Carlton Abu Dhabi, Grand Canal (United Arab Emirates), and The Ritz-Carlton Residences in Toronto and Singapore are scheduled to debut.
This will be followed in 2012 by a record number of anticipated new openings including Chengdu (China); Herzliya (Israel); Rancho Mirage (California); and an expansion of The Ritz-Carlton, Dubai (United Arab
Emirates). Two more Ritz-Carlton residential projects are scheduled be added in Chicago and Montreal.
Also in 2012, The Ritz-Carlton, Montreal—an historic landmark in the city's downtown—plans to become a "partner hotel." Under this agreement, The Ritz-Carlton Hotel Company will provide sales and marketing support for the iconic, independent hotel.
The third Bulgari branded hotel is slated to open in London, joining two other locations in Milan and Bali.
By 2013, The Ritz-Carlton plans to be on the map at destinations including Aruba; Dorado Beach (Puerto Rico); Quy Nhon (Vietnam); Panama City (Panama) and Cairo (Egypt). Branded residences are scheduled to open at North Hills, Nassau County (Long Island, New York); and Dorado Beach (Puerto Rico).
[adsenseyu1]