The festival for creative international culinary encounters
PARIS DES CHEFS 2012 (22-23-24 January, Maison de la Mutualité) make the heart of Paris bubbling over with excitement. The multi-Michelin-starred chef Alain Ducasse is overseeing the 4th edition.
Since the first session of the event in 2009, the best names in French and international gastronomy as well as the most promising talents have come to discuss their work with architects, designers, stylists, plastic artists and photographers, in order to reveal the increasingly stronger bridges between the disciplines.
Awaken your taste buds by coming to watch the Paris des Chefs 2012 demonstrations. A 1,700 seat auditorium welcomes presentations by chefs & creators.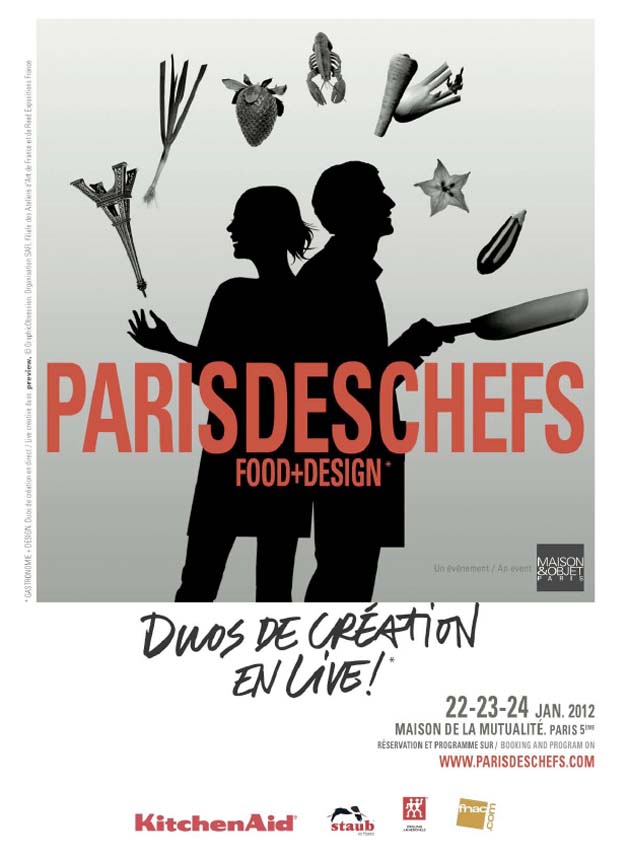 As usual Paris des Chefs will have a guide to the best spots in Paris and  all the information you need so you miss none of the PARIS DES CHEFS events. The book is a true Parisian Bible for all food lovers (gourmet food shops, restaurants, bakeries/pastry shops, butchers, cooking schools, bookstores, etc.).
PARIS DES CHEFS 2012 presenter is Andrea Petrini – a passionate, exciting critic. An Italian living in Lyon, he spends a large part of the year on the road, traveling throughout the world to discover contemporary cuisine. View the full programme here.
[adsenseyu1]