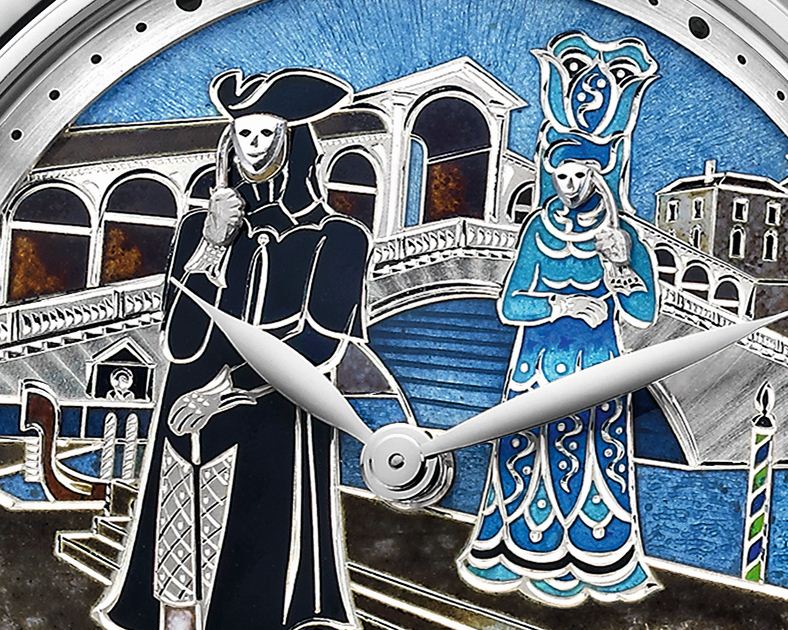 In the late 17th century the "Jaquemart" invention brought beautifully animated figures to the dial contributing to the storyline of the timepiece. The figures were set into the dial and move in sync with the activated minute repeater. In the late 1980s Ulysse Nardin introduced a surprising variation to "Jaquemart". San Marco watch symbolized the rebirth of the minute repeater. To this day, Ulysse Nardin remains among the rare manufacturers in the world to use Jaquemarts on the dial of its wristwatch minute repeaters. In 2013, Ulysee Nardin finds inspiration in one of the world's most romantic cities for a new, limited-edition Minute Repeater called "Carnival of Venice". It is a stunning work of art available to only a select few.
The Carnival of Venice Minute Repeater is a limited-edition mechanical timepiece of eighteen made in platinum, with the possibility of an 18-karat rose gold option.
Its dial depicts two figures in front of the Rialto Bridge on the Grand Canal. Both Jaquemarts are wearing masks, alluding to the Carnival of Venice. The feeling of festivity is set. With the minute repeater's chiming of the hours, quarters and minutes, the Jaquemarts lift their masks. Intensifying the elaborate detail of the dial is the enamel champlevé technique, a lost decorative art that is mastered by less than a handful of craftsman.