Vivienne Westwood  put art in the service of sustainable development.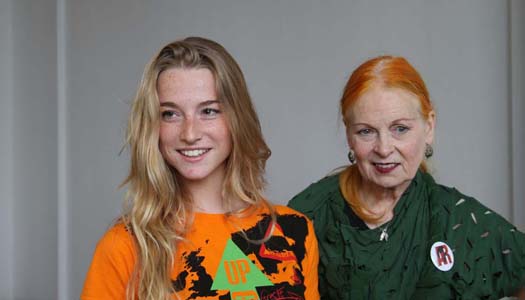 At the launch of the UN Environment Programme (UNEP)'s new 'GreenUp' initiative, conceived to bring the Green Economy closer to Europeans, British fashion designer Vivienne Westwood unveiled a 'Tree-shirt' to raise funds for re-connecting Europe's forests.
Forests across the globe will be central to combating climate change and a key part of realizing a low carbon, resource efficient Green Economy studies show. The essential Vivienne Westwood design was printed on shirts donated by the Anvil Eco T-Shirt Collection- and each shirt includes a Shirt Scan- Code with additional information on the GreenUp programme.
Vivienne Westwood emphasized that "the most important part is that it is absolutely crucial to involve the public. Public opinion is the only thing to save us. Without it, I do believe we are an endangered species."
[adsenseyu1]
More:  fashion windows