The world's biggest Koran, decorated with precious stones and gold, costs 1 million euros and belongs to Russia. The world's biggest Koran weighs 800 kilograms and boasts 632 pages sized two by one and a half meters. The gold- and silver-encrusted cover studded with malachite and semi-precious stones holds a giant turquoise 14 centimeters in diameter. The price of this opulent opus is unknown, but it took over a year to make.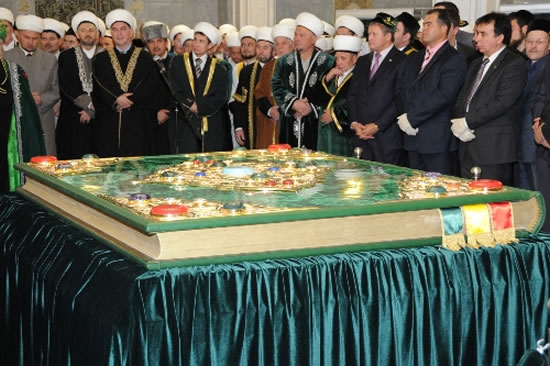 The carefully crafted Koran that took over a year to make, was ordered from Italy for the Foundation on Restoring Cultural and Historical Heritage in Russia's republic of Tatarstan. The unique edition now resides in a mosque in the city of Kazan.
The next largest edition of the Koran resides in South Sumatra, Indonesia. This wooden version was long hailed as the world's biggest.
[adsenseyu1]