On a cuff tailored by luxury couture embroidery atelier Maison Lesage, Chanel Horlogerie dictates the Haute Couture rules and time. Chanel's unique creation will be present at the world-renowned charity event Only Watch.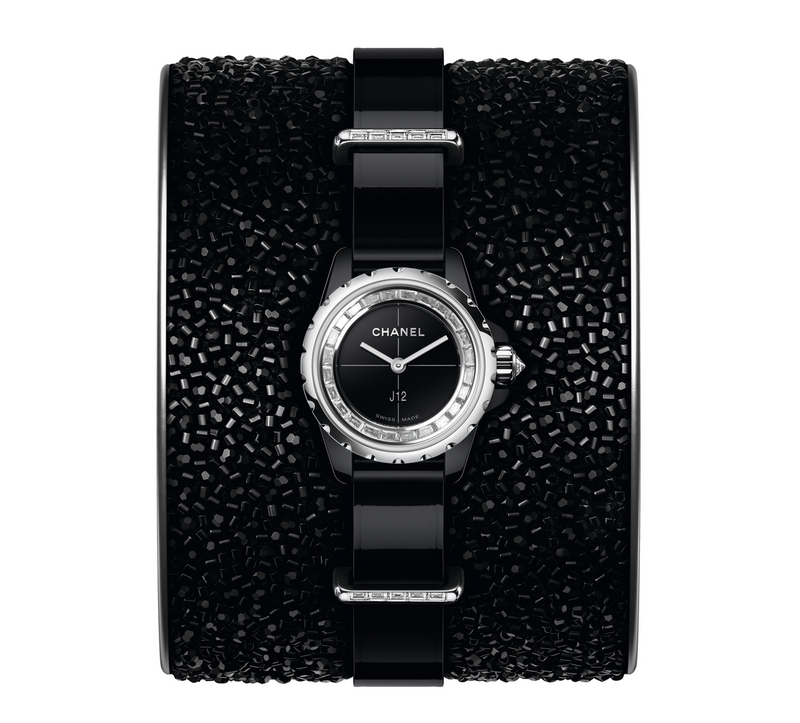 Since 1987, Chanel gives allure to time. In a tribute to Lesage unique savoir-faire and Haute Couture craft Chanel Horlogerie creates a cuff, hand stitched with black glass beads enhanced by a mini J12 setted with baguette cut diamonds. With this unique piece the arts of embroidery and watch making are merging with precision and refinement, audacity and style for the 2017 edition of the Only Watch charity auction. The biennial charity auction of unique timepieces was created by the finest brands united for research on Duchenne Muscular Dystrophy. Under the high patronage of Prince Albert II de Monaco, the auction will take place on SATURDAY, 11 NOVEMBER 2017, 2:30PM (GENEVA TIME).
For this edition, unique experiences and collaborations will be added to some of the Only Watch lots. Whenever possible, and according to its cultural heritage and desire, the horological manufacturer combines the one-off timepiece with a collaboration and/or an experience with an ambassador of the brand: athletics champion, artist, car racing driver… and invite the highest bidder of thelot to attend a special event (Formula 1, Historic or Endurance Grand Prix, film festival, fashion shows…).
Estimated at CHF 33,000 – 45,000 / 30,000 – 41,000 € / 34,000 – 48,000 $, this one-off Chanel J12 XS watch embroidered by atelier Lesage will  be your pass to Chanel's Ready to Wear fashion show in March 2018. The House of Chanel will welcome you in a Parisian palace the night before in order for you to make the most of this priviledged moment.
François Lesage (March 31, 1929 – December 1, 2011) was a French couture embroiderer. Lesage is globally-known in the art of embroidery and worked for the largest fashion and haute couture houses. His atelier is now part of Chanel through the company's subsidiary, Paraffection.
"In only thirty years of CHANEL's watchmaking journey, the House has touched on every métier contributing to the art of Fine Watchmaking. Defining a unique vision of Fine Watchmaking through the creation of watches conceived as objects of desire and beauty, without compromising the craftsmanship and technical expertise required to create exceptional timepieces," explained the luxury French maison.
Chanel J12∙XS features a black onyx dial set with 24 baguette-cut diamonds (~ 0.52 carat). The 19mm case in white gold and black ceramic is paired with a luxury bracelet with black patent calfskin strap with 18K white gold ardillon buckle set with 9 baguette-cut diamonds (~ 0.14 carat) and two 18K white gold loops set with 5 baguette-cut diamonds (~ 0.1 carat) each. The black calfskin cuff hand- embroidered by Lesage is adorned with black glass beads and silver calfskin piping.